News
We're calling this, Striketober!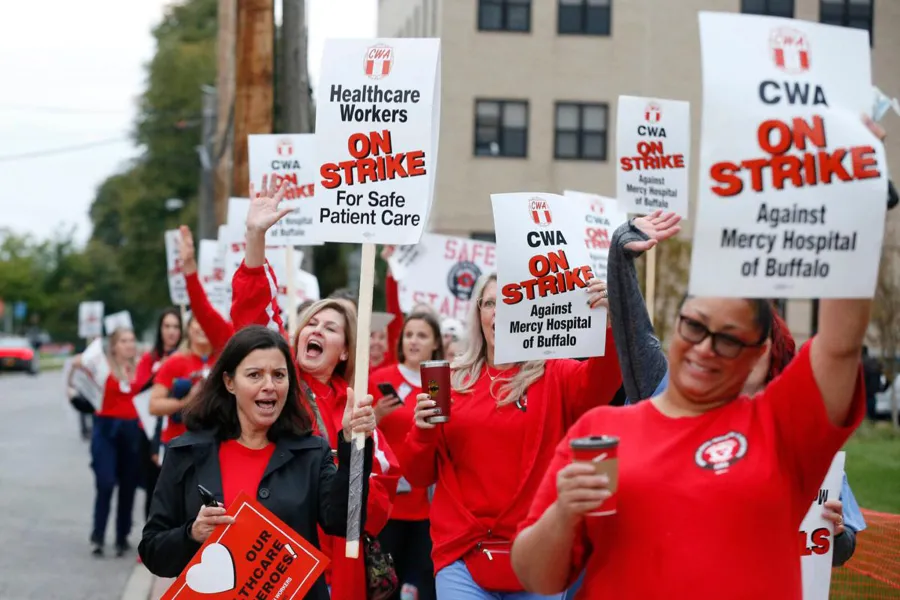 All across this country, working people are sick and tired of being sick and tired - and it's led to a major wave of strike activity which we're calling Striketober. Among the tens of thousands of workers on strike today are our CWA members at Mercy Hospital in Buffalo, NY. From nurses to environmental tech, wall-to-wall our members are out on strike demanding safe staffing ratios for better patient care, health and safety protections, and to protect benefits and raise wages - including for the many healthcare heroes still making less than $15. Check out this powerful video to hear directly from our members about why they're doing what they're doing.
There are lots of ways we can show our solidarity and support their strike from near and far, but we want to especially highlight one: making a solidarity donation to support strikers on the picket line. These donations will help support our members in addition to their strike pay, and will help strengthen our locals in their fight. If you want to sponsor a meal for the picket line (estimated cost is ~$300), please let me or my assistant Thomas Walker know.
November Activist Academy
Have you registered for our November PHEW Activist Academy yet? Open to all our members, staff and leaders, the Activist Academy will train people on vital skills to build a fighting, organizing union:
And lastly, because we'll have all been at the CWA Convention, and have upcoming opportunities to participate in the Activist Academy and work to support the VA Gubernatorial Election, we will not have our October PHERN call.
As always, please reach out if you have any questions or want to talk. You can reach me at mcook@cwa-union.org, and my assistant Thomas Walker at twalker@cwa-union.org.
Solidarity!
Margaret Cook, Vice-President
CWA Public, Healthcare and Educations Workers
p.s. If you haven't followed us on Twitter or Facebook yet, please do!
CWA-PHEW
501 Third Street NW 
Washington, DC 20001cwa-phew.org
Text CWAACTION to 69866 to Join Our Rapid Response Text List
Communications Workers of America, AFL-CIO, CLC.
Join Us at 8:30am Left Field Fence Mudhens Stadium!
CWA, Microsoft Labor Neutrality Agreement
Support Michigan Call Center Job Retention Act