News
Bargaining Updates Around CWA - Avaya, Piedmont, and more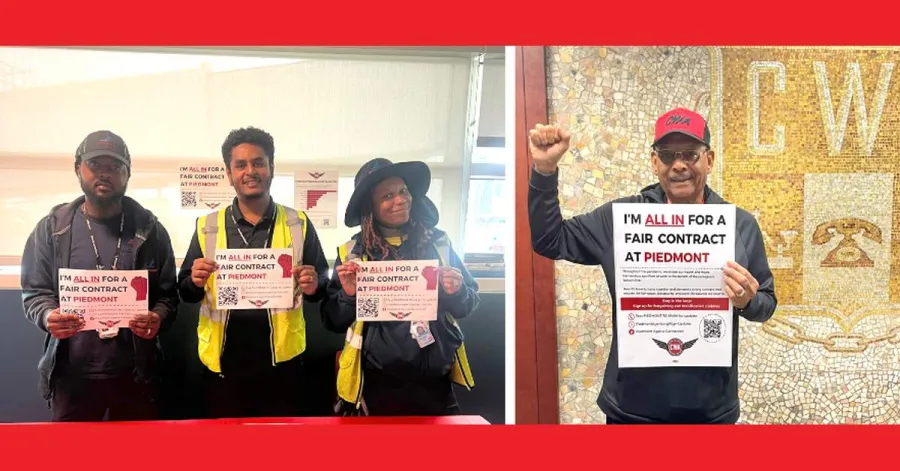 Avaya
CWA members at Avaya have voted to authorize a strike if the company does not meet their demands for a fair contract that provides fair wages, protects benefits for active and retired members, and preserves crucial programs. Instead of respecting our work, the company has been demanding across-the-board cuts and offering insufficient proposals on titles and wages.
The contract was set to expire on September 24, but has been extended for a month as talks continue.
 
Last week, CWA members and allies in North Carolina, Colorado, and Oklahoma City held a day of action in support of a fair contract at Avaya.
###
Piedmont Airlines
Passenger service agents at Piedmont Airlines are mobilizing for a fair contract. Bargaining between the CWA bargaining committee and Piedmont began on September 26, and members participated in bargaining kickoff events at stations across the country.
In a bargaining priorities survey, passenger service agents at Piedmont ranked base pay, paid time off, and safety as their top concerns to address in a new contract. On December 31, 2022, Courtney Edwards – a Piedmont passenger service agent in Montgomery, Ala., and a valued member of CWA Local 3645 – died in a tragic on-the-job accident. Following advocacy from CWA members, OSHA found Piedmont guilty of a serious breach of safety and fined the company the maximum amount allowed by law. Together, passenger service agents at Piedmont stand united and ready to fight for a contract that will provide the safety, fair wages, and work-life balance they deserve.
 
CWA Members at DCA and CWA President Claude Cummings Jr. are all in for a fair contract at Piedmont!
###
New York Times
Last week, members of the Times Guild (NewsGuild of New York, TNG-CWA Local 31003) said goodbye to the award-winning New York Times Sports Desk. Guild members held a vigil in the newsroom, displaying and distributing a ceremonial last edition with submissions by Sports colleagues, then exited the newsroom accompanied by a brass band to rally with supporters.
The union has filed a grievance against the company for unilaterally reassigning union jobs to non-union Times employees at The Athletic, a website acquired by the Times in 2022.
"We are standing up today to remind the company that we will not allow them to subvert the contract we fought so hard to win, nor will we stand for their attempts to pit workers against each other," Jenny Vrentas, Times Sports Reporter and Local Chair of the NewsGuild of New York, said.
---
This post originally appeared on cwa-union.org.
IUE-CWA Announces Precedent-Setting Neutrality Agreement with Semiconductor Maker Akash Systems
CWA Neutrality Agreements Showcased at Department of Labor Event for Business Leaders
CWA Members "Build on the Basics" at Telecommunications and Technologies Leadership Conference