News
CWA District 9 Members Are Up for the Challenge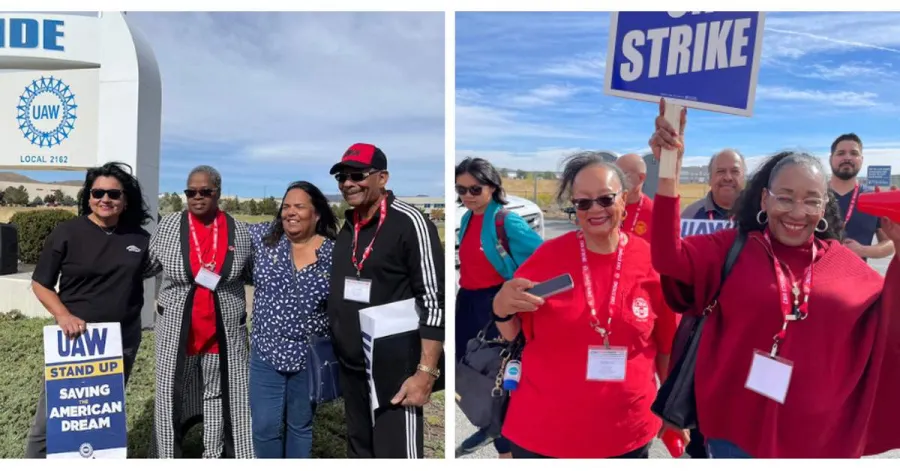 Earlier this week, leaders and activists from across CWA District 9 gathered for their annual Meeting and Leadership Conference. This year's theme was "Up for the Challenge."
On the first morning of the conference, the CWAers joined UAW Local 2162 members on the picket line outside the General Motors distribution facility near Reno, Nev. CWA President Claude Cummings Jr. addressed the crowd, saying, "Let's make sure we all understand clearly what this is about – corporate greed. Workers in this country are just tired of working every day to make millions and billions of dollars for these corporate leaders. But workers that are actually doing this work are not getting anything in return."
In his remarks to the conference, President Cummings said, "It is our responsibility as leaders and activists to build on this incredible momentum and secure a better future for workers and the labor movement. We must focus on our shared values. That is the only way we can rise to the challenges we face as a union, as a movement, and as a country." He stressed the importance of showing up for one another's fights and pledged to do more to break down the walls between districts and sectors and celebrate our successes.
CWA Secretary-Treasurer Ameenah Salaam reiterated her commitment to "moving our union to greater fiscal accountability and responsiveness to the needs of our local leaders and members." She noted that "our unity – the feeling that so many of us in this room have – that we are family – is what motivates members to get more involved, despite their already busy schedules. It is a beacon of hope for workers who do not yet have union representation, inspiring them to join our ranks."
Conference participants also heard from AFA-CWA International Secretary-Treasurer Dante Harris, Western Region At-Large Executive Board Member Keith Gibbs, and Nevada AFL-CIO Executive Secretary-Treasurer Susie Martinez. They participated in workshops to learn more about CWA's apprenticeship programs; build their organizing, mobilizing, representation, and communications skills; and develop a deeper understanding of workers compensation and labor law.
 
Nevada AFL-CIO Executive Secretary-Treasurer Susie Martinez, CWA Secretary-Treasurer Ameenah Salaam, Nevada AFL-CIO President Liz Sorenson, and CWA President Claude Cummings (upper left), CWA Public, Health, and Education Workers Vice President Margaret Cook (upper right), and CWAers from across our union joined the UAW picket line outside of Reno, Nev.
---
This post originally appeared on cwa-union.org.
IUE-CWA Announces Precedent-Setting Neutrality Agreement with Semiconductor Maker Akash Systems
CWA Neutrality Agreements Showcased at Department of Labor Event for Business Leaders
CWA Members "Build on the Basics" at Telecommunications and Technologies Leadership Conference