News
Smithville Bargaining Update #2

The 2nd round of Smithville Bargaining opened this week, and your bargaining team has been working hard to address the concerns of our members. 
We have reached several Tentative Agreements addressing issues that will improve the work life of our members. 
We still have outstanding proposals that will be addressed once bargaining resumes. 
It is important to note that this year's Bargaining Team has received unprecedented support from the membership, and such support has been noticed.  We understand how important a fair and equitable contract is for our members, and we are doing everything we can to deliver that to you. 
We will continue working under the current contract and as we discussed in previous meetings, the details of current contract negotiations cannot be addressed and will need to be kept confidential by your peers on the bargaining team.
We will keep everyone updated if there are any changes. If you have any questions, please don't hesitate to contact the Local or your Mobilization Coordinator. 
In Solidarity,
CWA-Smithville Bargaining Team
Bruce Swafford
Jeff Deckard
Ric Spires 4818 President
Bryan Andrick 4818 Secretary-Treasurer
Jane Phillips, District 4 Staff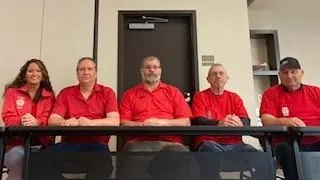 Bargaining Updates Around CWA - Avaya, Piedmont, and more
CWA Member Honored by the FBI
CWA District 9 Members Are Up for the Challenge